Published 22nd August 2019 by Jonathon Jackson in Next Tech Stock, read the original article here.
Some of the world's biggest and best businesses were founded in a garage, shed or a single rented bedroom.
Jeff Bezos started Amazon in his garage. The company is now worth over $300 billion.
Bill Gates and Paul Allen put their programming skills to the test in a small garage to build their first operating system. It was licenced for $80,000. Microsoft is now worth over $400 billion.
Walt Disney launched out of his uncle's shed; Steve Jobs and Steve Wozniak were regulars in Jobs' parent's garage; and Google founders, Sergey Brin and Larry Page, crashed Susan Wojcicki's (current YouTube CEO) unassuming home storage facility to create Google.
These are just the big name companies we're all familiar with. Certainly, the topic of companies founded in a garage would make for a 1,000 page book.
That would be part 1. Part 2 could be written about Australian start-ups following a similar path…
Australia's Vonex (ASX:VN8) is one such start-up.
Born in founder Angus Parker's shed back in 2009, this growing telco provider has a long way to go and work to do before it becomes a household name, but it's certainly having a year to remember.
Now operating globally, the news has flowed thick and fast in 2019.
In the last quarter alone, Vonex exceeded 30,000 retail and wholesale users, following its biggest sales month in history. Delivered sales grew 11.4% year-on-year and the number of active users jumped by 25%.
Its Channel Partner focused sales software, SignOnGlass, has now processed more than 1,200 orders to a mixture of new and existing customers, with quarterly orders via this platform rising 26% on the prior quarter.
Part of its sustained growth is due to its customer-centric vision statement.
That is the thing about being born in a shed — as good as your technology may be, and as fast as you innovate, the best companies never really lose sight of why they exist: to serve the customer.
Which is why Vonex's latest announcement was so important, internally and externally.
In June, Vonex entered a partnership as VoIP and Hosted Phone System telco provider to Australia's largest business-to-business loyalty program, Qantas Business Rewards (QBR).
It entered the program to give back to its loyal customers and acknowledge the support of the small to medium enterprise (SME) market that has given Vonex its unyielding support.
The SME market has been integral in helping Vonex to become one of the fastest growing telecommunications companies in Australia.
The QBR arrangement enables Vonex to reward its loyal customers at a time when loyalty is rapidly ascending: Vonex hit its 31,000-active-daily-user milestone last week for ONdesk, its award-winning, cloud-based voice over internet (VoIP) solution.
The announcement of that milestone wasn't a bad way to celebrate its 10-year anniversary.
Now, let's have a look in more detail at how Vonex is capturing its share of a competitive market. Share Price: $0.11
Market Capitalisation: $16.4M
Here's why I like VN8: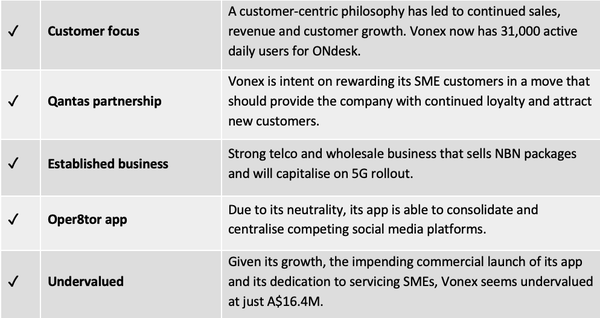 Vonex continues to surge
Back in June, small cap news site Finfeed, flagged Vonex (ASX:VN8) as one of the next big stocks in telecommunications.
The article was written at a time when Vonex had exceeded the 28,000 mark in terms of its ONdesk users. That news alone saw the company's shares surge more than 50%.
During the last quarter, Vonex targeted 30,000 users and was on track to deliver 25% year-on-year growth in new customer orders, accelerating from the 20% growth rate achieved in the March quarter.
Those targets have been well and truly met and the company wants you to know that it is all down to the support of its SME customer base.
In July, Vonex announced it has surpassed 30,000 registered active users.
Notably, to mark the anniversary of its 10th year in business, Vonex last week announced that its core SME base had helped it reach its 31,000 active daily-user milestone for ONdesk.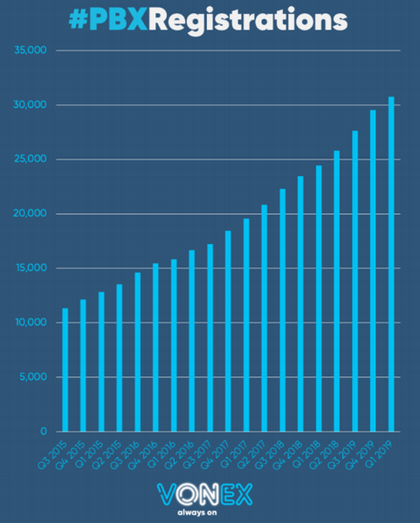 Registration is a key part of its business development, with Vonex looking to penetrate the multibillion-dollar Australian SME market for telco services.
"SMEs have been at the core of our business – we know many small businesses don't have the luxury of in-house expert support to know if their telecommunications is set up and managed to best practice – and they could be losing out," Vonex CEO Matt Fahey said.
"Last year, complaints among SMEs about their telco provider were up 9% – with over 20,000 complaints from small businesses to the Telecommunications Ombudsman.
"It's something Vonex has always focused on shifting – through creating and providing bespoke, premium telecommunications solutions for businesses – no matter how small or large – and getting them connected with our specialist channel partners to understand and manage their needs quickly, easily, reliably and without the overwhelm, hidden fees and wait times."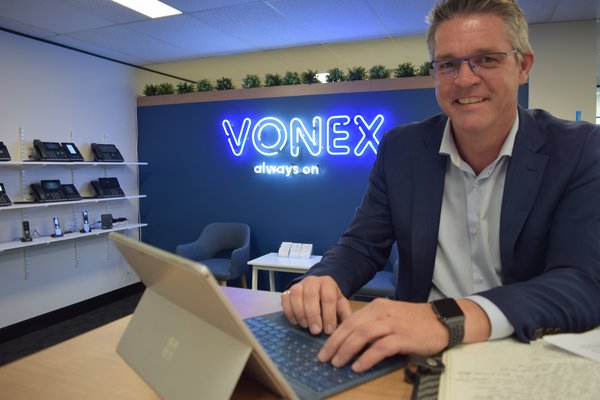 This customer-centric focus is one of the key drivers behind its revenue growth and expanding customer base.
It is an important base. SME's contribute around 57% of Australia's GDP and employ close to seven million Australians.
Here's Seven Network's David Koch's Business Builders program explaining the importance of small business to the Australian economy.
Given this importance, it is vital that Australia's SMEs are well looked after. For Vonex, this market, has been integral in helping it meet its milestones and exceed targets.
One of VN8's SME telecommunications partners is Aspire Technologies.
"We're proud to work with a telco (Vonex) that genuinely understands and values Australian businesses," Aspire Director Glenn Phelp said.
"We're not salespeople, we're technicians, the result being we're able to give a personalised service on exactly what the client needs – whether it's now or 10 years down the track as they scale or diversify. The fact they now reap QBR awards with their purchase is extra added bonus."
Come fly with Vonex
The Qantas (ASX:QAN) partnership first came to the market's attention in June, when Vonex entered an agreement with Australia's largest business to business loyalty program, Qantas Business Rewards (QBR).
In the QBR program, SME members earn points not only when they fly with Qantas, but also through their daily business expenditures with QBR's select group of program partners.
The partnership should provide valuable marketing support to Vonex over the next 24 months, presenting significant growth opportunities.
Vonex joins QBR's select group of program partners and aligns the company with Qantas' network of complementary high-profile businesses, including American Express, Westpac, Deloitte, Macquarie Leasing, Caltex, Coca-Cola Amatil and Harvey Norman Commercial.
"This partnership marks an exciting period for Vonex as we align with not just one of Australia's most trusted brands, but also with the program's network of nationally recognised partners," Fahey said.
"The ability to incentivise and attract customers with Qantas Points will prove valuable in helping Vonex engage businesses with which we can make a meaningful difference."
Head of Qantas Business Rewards, Eric Jelinek, underlined the relevance of the telco sector and the SME market to Qantas' business in saying, "Qantas Business Rewards is always looking for new ways to reward its members.
"The telco sector is highly relevant to Australian SMEs and we are delighted to partner with Vonex, an award-winning telco that prides itself on its SME focus and expertise.
"We look forward to a fantastic partnership that enables our members to earn Qantas Points on telco products and services."
The partnership has now launched.
You can read more about it in this Finfeed article: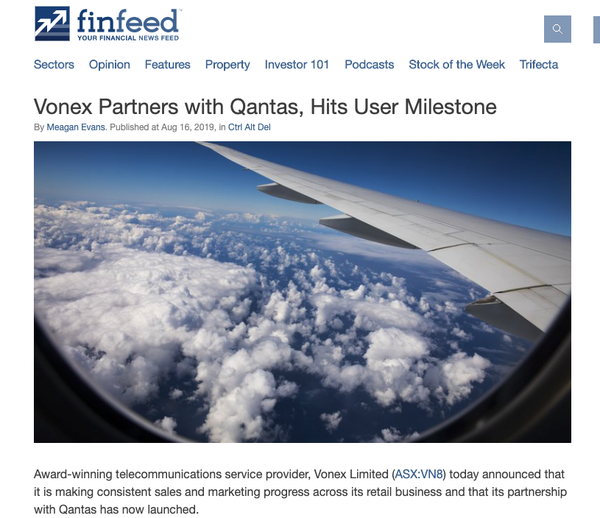 Essentially Vonex aligned SMEs can now earn unlimited Qantas Business Rewards points for every purchase made with Vonex's monthly ONdesk cloud‐based phone plans, including its Traveller app, or its Commercial, Business, or Executive advanced plans. These plans come with the most advanced IP desktop phone with built‐in Bluetooth and WiFi, the Yealink T5 series.
Fahey said: "As an example of the value we can add to a typical customer setting up with ONdesk, a small business might take 10 Business Yealink T53W handsets, seven Executive Yealink T57Ws and 10 Vonex Traveller app plans.
"In that case, not only would they never miss a call while saving thousands per year on their phone bill, but they would also now earn in excess of 100,000 QBR points in their first year from signup."
A quick Oper8tor update
Whilst it continues to improve numbers and woo the SME market, Vonex has also entered the final stages of testing ahead of launching its Oper8tor app.
Just today, it lodged a new application with the Patent Office to protect the IP surrounding the unique Message functionality of its Oper8tor aggregated communications platform. The patent will help to de-risk Oper8tor as Vonex commercialises and scales up adoption of the platform.
You can read more about Oper8tor in our previous article: Mirror, Mirror on The Wall: Who's The Greatest App of Them All?
This disruptive aggregated communications platform targets the inclusion of Conference, Voice, Message and Video functionality, facilitating user communication across a broad swathe of channels.
Here is Fahey explaining the Beta testing and how the platform works:
Vonex reports that more than 120 beta test builds of Oper8tor have now successfully passed through Apple's mobile app testing service, TestFlight, and Google Play's mobile app testing service.
These tests have enabled Oper8tor Version 1 to move towards its final stages of completion. The testing phase was extended by six weeks to allow Vonex to further develop key elements of the platform more thoroughly to stabilise the app's performance at scale.
Testing is expected to be completed in Q4 this year at which time, Vonex will then execute its planned marketing and commercialisation strategy for Oper8tor.
Following the successful initial launch of Oper8tor V1 in Australia, Vonex will move to commercialise the app in the European market where the company expects to generate revenue from advertising and in-app purchases.
Europe is a key market which hosts an educated and tech-savvy population of approximately 750 million across 44 countries, with 500 million smart phone users.
On launch, Oper8tor will demonstrate features including call blast, cross-platform social media messaging incorporating SMS, improved contact management and Oper8tor-to-Oper8tor message chat and voice calls.
Further development is expected to enable Oper8tor to link mobile phones, land lines, and selected social media communication apps simultaneously into a single voice call.
You can talk to me
Vonex has achieved significant improvement across its key metrics. It hit a major milestone in reaching 31,000 active daily users for ONdesk and its rate of growth doesn't look to be slowing.
Its QBR partnership should also speed things along, not to mention keep its SME clients happy and engaged.
Finally, with the launch of the Oper8tor platform in Australia imminent and the company eyeing off European market penetration, there is more news to come out of the Vonex stable as it encourages all SME to talk to them about their telecommunications challenges.
Vonex has targeted powerful telecommunications markets and in doing so has come a long way from its origins – the humble shed.