Published 29th April 2019 by Justin Ware in NextTech Stock, find the original article here.
According to the 2018 Global Digital Report, there are 5.1 billion mobile phone users worldwide.
Of these, 3.2 billion use social media, a figure up 13% year-on-year.
Due to our ever growing pursuit of connectivity and multi-networking, it's easy to lose track of how many accounts we actually have.
How many social media platforms do you use today? Four? 11? The answer may surprise you.
The average user now has over seven active social media accounts and spends two and a half hours per day online.
Yet, perhaps the most shocking figure is that there's now 100+ social media platforms available.
It's enough to make your head spin – which platform did my brother message me on? Which account did I use that password with? Where did I save that booking information? Was it Facebook Messenger? Instagram? Skype? WhatsApp?!
In other words: social media has become a decentralised digital sprawl and the problem is likely to worsen if unaddressed.
What if there was an app that could merge your contacts, accounts and messages into one easy to reach location?
The company I bring to your attention today is developing a first of its kind platform that could change the way we use social media forever. Thanks to this disruptive aggregator app, toggling between conversations across platforms will be a thing of the past.
This company already has two major social media platforms connected to its solution – with a third imminent – and remains on track to achieve commercial launch in Europe by FY20.
Europe is home to over 700 million smartphones, providing the perfect launchpad for this first mover.
With an established retail business in tow, I think it's just a matter of time before the market sees the potential in this stock. Share Price: $0.10
Market Capitalisation: A$17.2 million
Here's why I like them: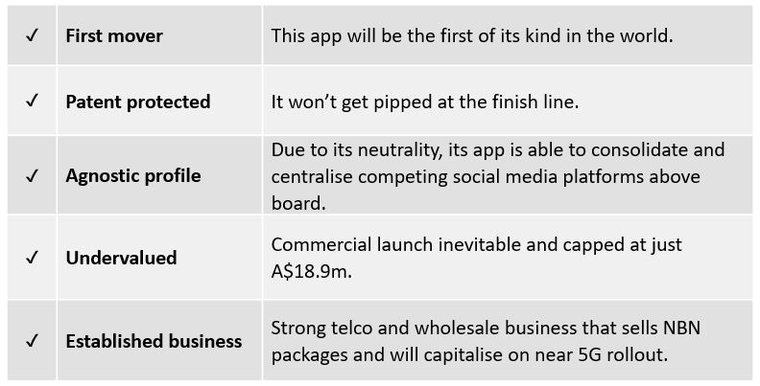 Vonex Limited (ASX:VN8) is an emerging tech player that's ahead of its time.
Since our last update, it's been hard at work developing its first consumer facing product, Oper8tor. If you'd like to see our last update on the company, you may do so by clicking here.
Oper8tor is an aggregated communications platform that will utilise conference, voice, message and video functionality.
Facebook made headlines earlier this year when it announced it would develop a centralised app for its Messenger, Instagram and WhatsApp platforms. While this is a solid step towards simplifying the way we communicate online, with a release before 2020 unlikely and only three apps being centralised, it's far from the magic bullet users need.
Yet unsurprisingly, when Facebook talk, people listen.
The announcement did two things for VN8.
Firstly, it provided considerable legitimacy to VN8's Oper8tor development. With the company now putting the finishing touches on its initial MVP, heightened awareness around social media unification could not have come at a better time.
Secondly, it drew attention to how advanced Oper8tor is and will be.
Oper8tor has already achieved what Facebook is setting out to do – with far greater scope well underway. Facebook's initial plans were vague, with the company hinting that a release before 2020 was unlikely.
While Facebook can only unify what it owns, Oper8tor knows no such limitations, finding itself in a truly unique position.
Already, VN8 has connected Facebook Messenger, Skype, Hangouts, SMS.
It's this agnostic identity that sees Oper8tor connect platforms as it chooses and allows you, the user, to become the 'operator'.
Every instant message, SMS, call and contact. All in the one place.
VN8 Chief Technology Officer Angus Parker is the mad scientist behind Oper8tor, heading up the team that has produced the first app of its kind, "Once Facebook creates its new app: that will be it. Messenger, Instagram and WhatsApp.
"Meanwhile, Oper8tor will always receive regular commits from the development team. We will continue to connect new platforms. That's where it's one step better."
Need to get an answer from a friend urgently? No problem, execute a message blast to their six different accounts at the push of a button.
Need feedback from a key stakeholder but they have multiple numbers? Too easy – you can use Oper8tor's call blast feature to call every number for that person at the same time.
VN8 has achieved this technological landmark with the help of WebRTC – an open source project that it used during the development of its Oper8tor Conference module.
"Everyone's in"
I was lucky enough to get a hands on look at Oper8tor last week, here's what I can share:
It works
It actually works
I've never seen anything like it before
Once you validate your credentials inside the app, it asks you to select which accounts you'd like to 'pair' with your Oper8tor account. This is a straight forward process and you can change which accounts you want paired to Oper8tor whenever you like.
For example: you may want to keep your professional LinkedIn conversations and contacts within the LinkedIn app, so you pair your Messenger and Instagram accounts only.

Oper8tor also uses the data from this process to provide suggestions to other users when they sign up.
Perhaps the craftiest aspect of the offering is how VN8 will drive adoption.
Oper8tor's tagline 'everyone's in' is not an exaggeration.
After receiving a few message blasts from a relative or work colleague using Oper8tor – motivation to regain control of how people get in touch with the recipient will be a high priority – and the only way a person can control how that happens is by signing up themselves.
By adopting an 'opt-in' instead of an 'opt-out' strategy, VN8's adoption approach is above board in the European market (GDPR regulations) and acts as a free form of marketing.
It's simple yet ingenious, and I think it will work.
But hey, don't just take my word for it…
VN8 a 'Speculative Buy'
In its April 1 research paper (no it wasn't an April fool's joke), State One Stockbroking maintained its 12-month price target of $0.28 — a 195% premium on the April 1 share price of $0.095 — and its 'Speculative Buy' rating. The full report is available HERE.
While VN8's sizeable telco division contributed heavily to the price target (A$44m valuation at A$0.25 per diluted share), the broker valued the Oper8tor app at just A$5 million (A$0.03ps), a figure it admits could be exceptionally conservative.
Historically social media platforms attract widespread investor interest and high market valuations.
One need look no further than Snapchat (NYSE:SNAP) or Twitter (NYSE:TWTR) – which despite stagnating user growth and poor commercialisation models – boast US$14 billion and US$25 billion market caps, respectively.
State One believes successful commercialisation of the Oper8tor app is likely if VN8 can meet its active user's target. If its target of 10 million active users is achieved, the broker projects substantial revenues of around US$100 million per annum, assuming industry-average user income of just US$10 per annum (or ~US$0.80 per month).
While the Oper8tor's commercialisation model is not set in stone, a concept akin to Spotify's premium plan has been floated as a likely source of user revenue. That, in combination with ad revenue via banner and audible advertising, will go a long way to achieving the industry-average performance.
Speaking of VN8's business divisions, let's see how they're doing.
VN8 is an established retail business too
In the midst of the ongoing development of Oper8tor, it's easy to forget that VN8 has other pursuits.
VN8 has completed its final stage of beta testing on its Oper8tor Conference, with participants noting the exceptional sound quality, picture quality and relay of the platform.
The development of this platform was an important pillar for the creation of the Oper8tor app and VN8 is now in the process of white labelling this offering for SMEs and larger corporations.
If you'd like to read more about Conference, you can do so here.
VN8's telecom and wholesale divisions also continue to perform strongly, with the company offering one of the most competitive NBN packages on the open market.

VN8 is also well placed to capitalise on the upcoming rollout out of 5G, which is tipped to exceed one billion connections by 2025.
In its recent interim report for the half year ended 31 December 2018, VN8 saw:
Total group sales revenue increase by 9%, exceeding A$4.2 million in revenue
Customer accounts from July 2018 to December 2018 increase by 10%
The wholesale division increase its direct sales revenue by 12%
User numbers hosted by VN8 increase by 24%
I reported on the news at finfeed.com: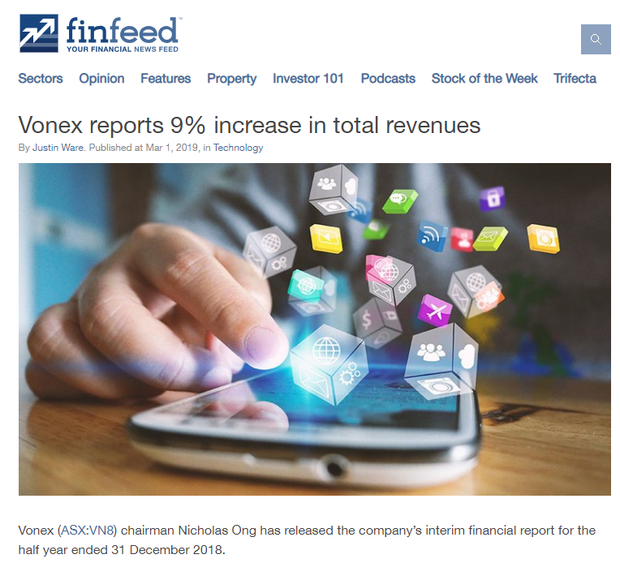 In addition, the company's Private Branch Exchange (PBX) users continue to track nicely, with the telco announcing in February that it had reached 27,000 PBX users. The continued growth of this user base has been attributed to its Channel Partner program.
VN8 has targeted, recruited and onboarded over 40 new Channel Partners so far in FY19 alone, and remains on track to secure its target of 100 new partners for the full financial year.
In the right place at the right time?
Oper8tor is an app unlike any other that addresses an area of clear need.
We want communication to be effortless, fast and straight forward. Needing to install multiple apps on our devices just to stay across the different people and mediums we may have is time consuming and resource heavy.
Having the ability to merge every single source of digital communication into one avenue has the potential to redefine how we communicate.
It doesn't get any more disruptive than that.
Capped at just A$17.2 million and with its commercial launch into Europe on the horizon, VN8 is an established business with some considerable upside.
Watch this space.