Hosted PBX Phone Systems
Cloud-based phone systems combine PBX infrastructure with IP communications technology.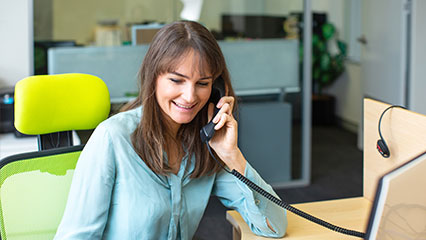 What is PBX?
Think of a PBX system as a traffic controller; it allows, redirects, sends and makes sure call traffic is managed seamlessly. Very clever and often very expensive a good PBX system will have a lot of features some manual and others automated.
PBX + The Cloud = Cloud-Based Phone System
Not that long-ago PBX systems were trapped in the back rooms of offices, taking up space and needing professional technicians to keep them up to date with semi regular maintenance checks.
These were complex and if a new phone line was required, say if a new team member started in an office, the technician would need to come out and setup their new extension.
So, a very clever system, taking up space in what we would now consider redundant hardware needing very specialist support. Sounds expensive right? It was! A lot of that very expensive hardware has now been replaced by infrastructure in the cloud, and that's why—when we started having the capability to make phone calls over the internet—PBX systems were revolutionised.
What is a cloud-based phone system?
Cloud-based phone systems take IP communications technology and connect to PBX infrastructure. What used to take up all that space is now built in the cloud, accessible by the internet. This allow businesses to navigate, automate and improve how they connect to customers within their own private network. Some people call this a Hosted PBX service, we call it technical jargon!
At Vonex we are proud to have created one of the first cloud-based phone systems in Australia and we now host over 35,000 users on our platform. We call it ONdesk, which is always on with 99.999% uptime, so your business will never miss a call even if you lose power, have a hardware meltdown or have moved your team to the other side of the world. It is the most reliable business phone system in Australia.
IT'S TIME TO GET IN THE CLOUD
If your PBX system is not connected to the cloud, it's costing you money and is unsustainable.
1800 828 668
Want to talk to a real person? Ask us any questions, and as long as they're about our plans, we're ready to talk to you.
Want to talk to a real person? Ask us any questions, and as long as they're about our plans, we're ready to talk to you.